A luxury luggage manufacturer is facing increased competition from cheaper imports. It must decide how to protect its brand and create new markets for its products.
Background
Jersey Corporation, based in Philadelphia, USA, makes top-of-the-range luggage and travel accessories. it's a well known name within the USA. Its suitcases and bags are related to top quality , traditional design and craftsmanship. Jersey emphasises in its advertising that its products are 'made in America'. Recently, the company's market share within the USA has decreased. One reason for this has been the increased competition from Asian companies selling similar products at much lower prices.
A year ago, the management decided to boost sales by entering the European market, focusing initially on Switzerland, Germany, France and Italy. They set up a branch office and warehouse facility in Zurich, which would be the base for their European expansion.
What problems do you think Hudson will face on entering the European market? Make a list of your ideas.
Market Research
Jersey recently set up a series of focus groups to find out how consumers perceived the company's brand in the USA.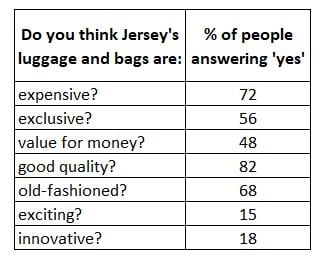 ¿Which of the findings do you think may have contributed to the company's lower market share in its home market?
MARKETING STRATEGIES FOR EUROPE - OPTIONS
Reposition the brand
Sell Jersey suitcases and bags at medium price ranges. Manufacture the products in a country where labour costs are low, e.g. India or China. Do not promote the products as 'Made in America'. Use a high-volume, low-cost strategy for Jersey's core products.
Develop the Jersey brand
Promote the Hudson products as an exclusive brand and keep the 'Made in America' tag. Sell the products in the higher price ranges. Use product placement in films and television to support the brand. Hire a famous, sophisticated, influential man and woman to endorse the products. Two well-known French film stars have shown interest in endorsing a new range.
Develop sales using e-commerce
Sell the existing product lines via the Internet at very competitive prices.
Hire a top designer
Employ a top designer to produce a new range of smaller suitcases and shoulder bags aimed at business people travelling in Europe and at rich, younger, fashion-conscious buyers. Sell the products under a new label.
Develop a wider product range
Sell a wider range of products under the Hudson label, e.g. trolley-backpacks, document cases, briefcases, name-card holders, shoulder bags for men and women. Sell at lower, competitive prices.
Stretch the Hudson brand
Put the Hudson brand on high-quality watches
and jewellery. Make an agreement with the Swiss
manufacturers of these top-of-the-range products.
Tasks
Work as director of the Jersey Corporation.
 Consider the advantages and disadvantages of each option listed above as marketing strategies
 Decide which two marketing strategies you will use to develop sales in European markets.

As the Director of Jersey Corporation, write an e-mail to the head of European Marketing Associates, Steven Davies, summarising the actions you agreed to take, with your reasons.